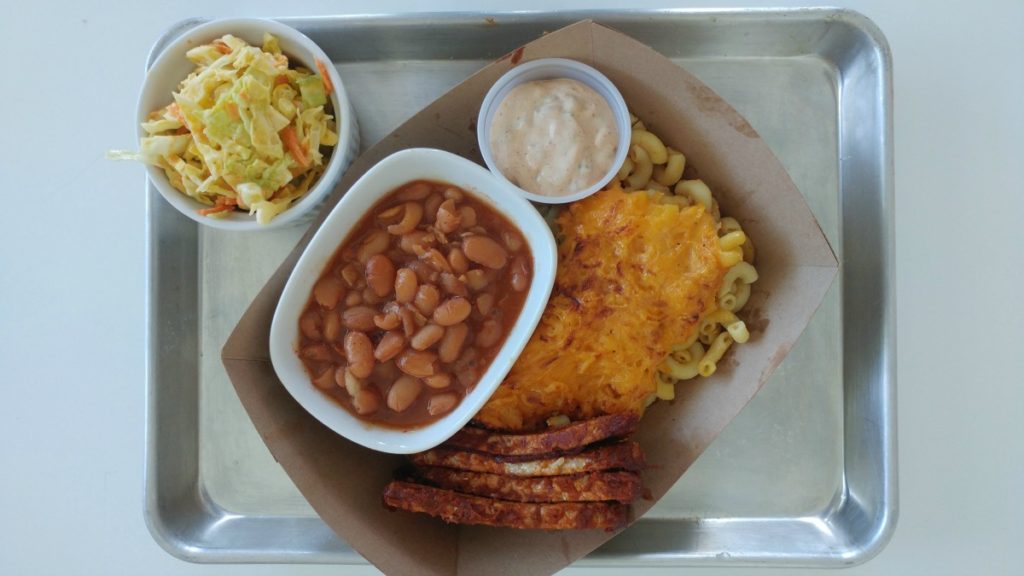 vShops, the world's first-ever all-vegan food hall in Miami, has announced the newest addition to its mouthwatering lineup: Southern Sol Garden BBQ.
The comfort food-focused concept is the fifth to join the ranks at vShops.
(I broke the news via the Miami New Times, click to check out that story!)
Southern Sol will offer items like BBQ tempeh, BBQ jackfruit, jalapeño cornbread, buttery grits, collard greens, biscuits, black eyed peas, drumsticks, and more.
Customers can create their own plates combining proteins and sides, or choose from signature dishes including the Grits & Greens, a wrap or salad bowl of buttery grits topped with collards and kale with a side of house-made remoulade sauce.
Located in Miami's Coconut Grove neighborhood, vShops has seen massive success since it opened earlier this year.
Southern Sol joins Choices Cafe, which sells wraps, bowls, and burgers; Neo's Blender, a smoothie spot; Next Generation Pizza, a traditional Italian-inspired pizza joint; and Ice Dream Parlor, a classic ice cream shop that happens to be vegan.
"It's definitely creating a buzz, and a heightened interest in plant-based foods," says vShops President Lori Zito. "We're getting lots of vegans who bring their non-vegan friends and family to the vShops because there are so many options to choose from – they are bound to win over their guests when there's pizza, ice cream, nachos, burgers – and now BBQ comfort food – on the menu!"
The food hall concept is popping up all over the place, but vShops is the first of its kind. And it's worth making a trip to Miami just to take in all the deliciousness! While there are currently five concepts, more are on the way.
Here's what Zito had to say when asked what visitors should order at vShops:
"They better come VERY hungry, because each concept has a few must-try items, so a food tour at the vShops is a pretty big undertaking! Some of the all-star offerings are:
Gluten-free, custom made pancakes by Choices Cafe, topped with anything from chocolate chips to kale
The Cake Batter Dirt Stack from Neo's Blender, which is a smoothie that tastes just like vanilla cake batter, and topped with their signature 'dirt' and a vegan gummy worm
The Ice Dream Sammy from Ice Dream Parlor, a gluten-free chocolate chip cookie sandwich, stuffed with coconut-based ice cream and finished with rainbow sprinkles of course!
The Helen of Napoli Pizza from Next Generation Pizza, it's the current top selling pie and it's stacked with potatoes, house-made cheddar cheese, scallions and bac'un bits
And soon we expect Southern Sol's gluten free jalapeño corn bread to be on the must-try list too!
Follow Some Vegan Girl on YouTube, Facebook, Instagram, and Twitter for all things plant-based and pop culture.